Holistic Fitness
09 Nov 2014
Leave behind the spandex, put down the dumbbells and experience fitness from the inside out
By KIM HENRY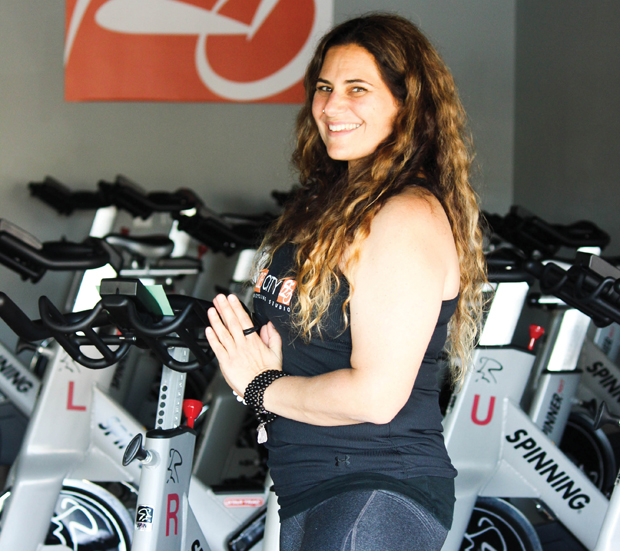 The fitness world has experienced a revolution of its own over the last couple of decades, evolving from the culture of "no pain, no gain" to the conscious integration of body, mind and soul as the ultimate expression of health and well-being. This explosion of lifestyle awareness and spiritually infused exercise has reached the sandy shores of Wilmington with classes such as Nia dance, aerial yoga, hula-hoop, silks and spin-yoga.
Dani Nir-McGrath and Jamie Poletti are two local women who are providing the community with unique alternatives to the "go for the burn" path of fitness. Whether they are embracing an awareness of the breath, utilizing guided visualization, or honoring the inherent benefits of fun and laughter, their classes are clearly more than just a physical workout.
"I grew up within a health-conscious family. Traditional exercise was very much a part of our lives," explains Dani Nir-McGrath with her infectious smile. Born in Brooklyn, Nir-McGrath grew up living in different parts of America as her father's nuclear engineering job took the family from California to Pittsburg to New Orleans. After working for many years as a psychotherapist, Nir-McGrath became a devoted stay-at-home mom following the birth of her two children. "I remember looking in the mirror one day and thinking, that just isn't me. I had gained around 100 pounds and although I loved being with my children, I was very out of touch with my own deeper well-being."
Following the breakup of her marriage in 2010, Nir-McGrath moved to Wilmington to be closer to her parents. She was introduced to the age-old mind, body, and spirit practice of yoga. "By discovering the power of my mind and breath, I reconnected with myself in a whole new way, a way that I didn't even know I was looking for, she explains. "I gradually developed a completely new relationship with my body based on listening and love, and this has spilled out into every area of my life."
Nir-McGrath is now an energy healer and has been a life-long spinner, a practice otherwise known as indoor cycling. She currently teaches up to six or seven sessions a week but her class is no ordinary spin class. Weaving in guided visualization, Sanskrit terminology, and breath work, the yoga-spin experience goes way beyond clocking the miles. "We begin by setting an intention such as, 'my body, mind and spirit are a great team,' and by the time everyone leaves they are so Zen, it's just beautiful!"
Nir-McGrath believes that for physical well being to truly become a part of one's life, it has to be experienced on multiple levels. She resonates with many of her students, recognizing in them a need for something a little deeper than merely breaking a sweat. "I see the transformative power of a multi-dimensional fitness program on a daily basis and I love the fact that it's reaching people from all walks of life."
Echoing the stance that the mainstream is ready for their workout to be one squat deeper than pumping iron, Jamie Poletti takes exercise to another level: the air.
"I feel more natural in the air or upside down than I do the right way up!" Poletti says with a laugh. She currently teaches classes in silks, aerial yoga, hula-hoop and partner acro. Having grown up in Charlotte, Poletti settled in Wilmington in 2007 with a degree in Elementary Education and spent her first two years working in a school and traveling to Raleigh to practice her love of circus skills.
Seven years on, she is in high demand and getting ready to open her own Wilmington studio, which will offer a range of unique circus-inspired fitness classes. Having become certified as an aerial yoga teacher in 2012, she recalls some of her most uplifting teaching experiences over the last two years. "I have seen people overcome their fears by doing aerial yoga. The more people start to do things they would never believe they are capable of doing, the more confidence they gain and naturally, this has a positive effect on many other areas of their life."
Celebrating the joy of laughter and the spirit of fun is an integral aspect of Poletti's work. Her classes build endurance and incredible strength while you laugh your way through them. "You can't be bored and hoop at the same time," she says. "I want a good work out and I want to engage the breath, and I want be mindful about what I am doing in any given moment—I want it all and silks, aerial yoga, acro and hoop serve all of these areas."
To learn more about any of these classes, email Dani Nir-McGrath at powerinhealing@gmail.com or Jamie Poletti at Strengthandelegance@gmail.com